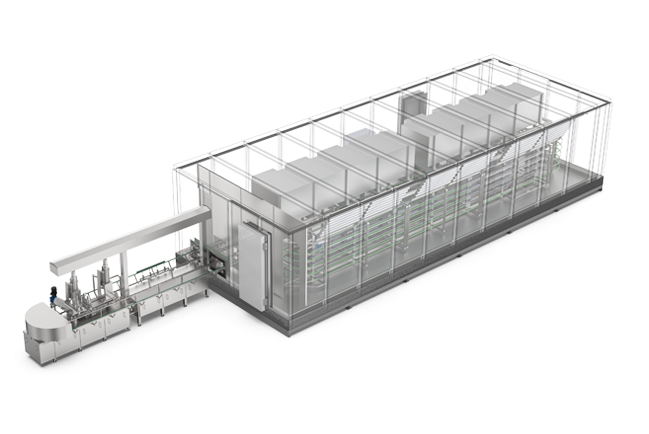 Usually inserted on an extrusion line, the tray tunnel is composed of an isothermal box (inside which is positioned a stainless steel double spiral mechanical structure to support and guide the train-chain) and cooling batteries with fans.  The inner edge of the conveyor belt is driven by gear wheels positioned on a rotary axis.
Suitably shaped stainless steel trays are connected to the chain and run on a HDPE guide supported by a stainless steel tubular structure.
The system is designed for a horizontal airflow, blown through the product layers and then deflected by special deflectors placed on the wall.  This provides an almost constant heat transfer rate, regardless of the amount of product on the conveyor.
The box is insulated by 150 mm thick panels positioned on a concrete base (not included in the delivery), with insulation of appropriate thickness, or it is lifted from the ground and supported by a special steel structure.
The floor consists of a welded stainless steel sheet basin with the necessary inclination to discharge the defrosting or cleaning water, as to avoid dangerous water stagnations and the consequent formation of ice.
Inside, a steel wall is installed to reduce turbulence and prevent air in or out of the box.  The cooling system with evaporators and refrigeration units can be freon, ammonia or CO2, depending on the requirements.  The electric line control panel is equipped with Touch Screen Operator Panel, PLC, drive switches and emergency buttons.  Control hardware can be SIEMENS, ROCKWELL/ALLEN-BRADLEY or similar.  The line comes complete turnkey with all accessories and connections.