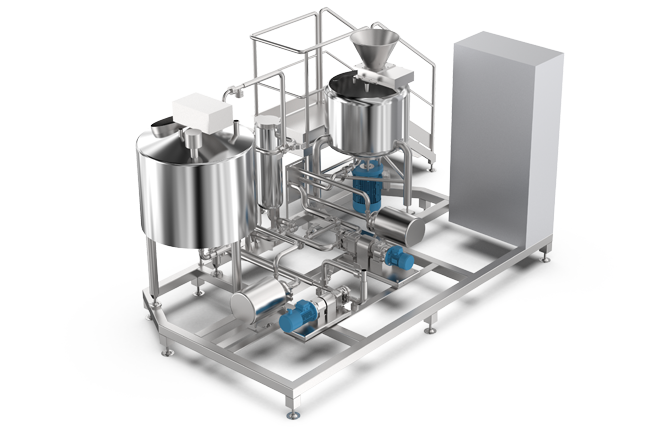 A complete line dedicated to the preparation of doughs, complete with:
Liquid dosing systems and quantity control by means of flow meters or load cells.

Volumetric pumping systems, to maintain the integrity of the batter.

Systems for manual or automatic loading of ingredients and powders with hoppers dimensioned on the quantity of product to be loaded. The support structure of the hoppers is made of AISI 304 stainless steel profiles and has an embossed sheet ground level. The railing along the entire perimeter is made of a stainless steel pipe and has the foot pad at the bottom. A staircase in stainless steel AISI 304 anchored to the mezzanine allows easy access to the platform. The individual hoppers are connected to the beams by means of anti-vibration devices, so as not to compromise the accuracy of weighing. The cylindrical lung hoppers are made of stainless steel and are equipped with a protective grid and removable cover for manual loading of the bags (if provided). They are generally supplied complete with agitator with gear motor, flexible spiral doser with gear motor, weighing system consisting of load cells and output control units.

Systems for mixing powders with liquids, consisting of:

stainless steel mixers AISI 316 with load cell mounted motors for measuring the weight of powdered ingredients and liquids to be mixede

AISI 316 stainless steel storage tanks with stirrer, double jacketed and insulated, cooled with cold water or glycol

pipings, valves, pumps, thermometers and probes sized and calculated according to the factory layout

Electrical power plant and signal complete with electrical cabinet connected to all utilities. The control logic includes programming via PLC SIEMENS S7-1500 and 7" SIEMENS touch screen mounted on the door of the cabinet.